מגרש 02
August 20, 2022 7:00 PM
HAMERETZ2
HaMerEts St, Tel Aviv-Yafo, Israel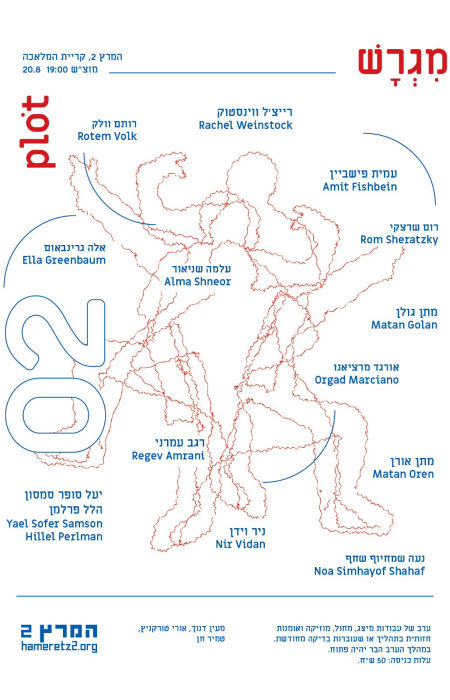 האירוע השני בסדרת 'מגרש' יוצא לדרך. ערב משותף ל 14 אמנים, בו יוצגו עבודות מחול, מיצג, מוסיקה ואמנות חזותית. לצד ההתרחשויות והיצירות השונות, בר אלכוהול פתוח ולאחר מכן, מסיבה שתסגור את הערב.
במגרש02 מוצגות עבודות בשלל מצבים: עבודות חדשות, הצעות ראשוניות, עבודות קיימות שעוברות בדיקה מחודשת.
בערב יציגו:
מתן אורן
מתן גולן
אלה גרינבאום
רייצ׳ל ווינסטוק
רותם וולק
ניר וידן
יעל סופר סמסון והלל פרלמן
רגב עמרני
עמית פישביין
עלמה שניאור
נעה שמחיוף שחף
רום שרצקי
+ תיקלוטים של אורגד מרציאנו
הפקה ואוצרות: מעין דנוך, טמיר חן ואורי טורקניץ
המרץ2, קרית המלאכה
בשיתוף עם גלריה מאיה
פתיחת דלתות ב 19:00 (ניתן להיכנס בכל שעה)
מסיבה מ 22:00
עלות כניסה: 50 ש״ח
**************************************************************************
Plot is a series of multi-disciplinary art events that brings together artists and audiences in order to test new proposals, to re-examine old works or to challenge formats of presenting them. We initiated the event because we feel there is a need in a space for artists to experiment and present works in a supportive environment and learn about the work they created by sharing it with others.

In Plot02, we present performance, dance, music and visual art works in the process of re-examination. You are invited to wander, to take time, to get to know each other, chat, and also dance together. During the evening the bar will be open, and there will also be a party.
Participating artists:
Regev Amrani
Amit Fishbein
Matan Golan
Ella Greenbaum
Matan Oren
Rom Sheratzky
Alma Shneor
Nir Vidan
Rotem Volk
Rachel Weinstock
Noa Simhayof Shahaf
Yael Sofer Samson and Hillel Perlman
+ Tunes by Orgad Marciano


Curation and production: Tamir Chen, Maayan Danoch and Uri Turkenich
Hameretz 2, Kiryat Hamelacha, Tel Aviv
https://www.hameretz2.org/
in collaboration with Maya Gallery
https://www.mayagallerytlv.com/
Doors open at 19:00 (It's possible to enter at all times during the event)
Party from 22:00
Entrance price: 50 NIS
Hameretz 2 | המרץ 2 | תיאטרון | תרבות אלטרנטיבית
August 2, 2022 1:51 PM